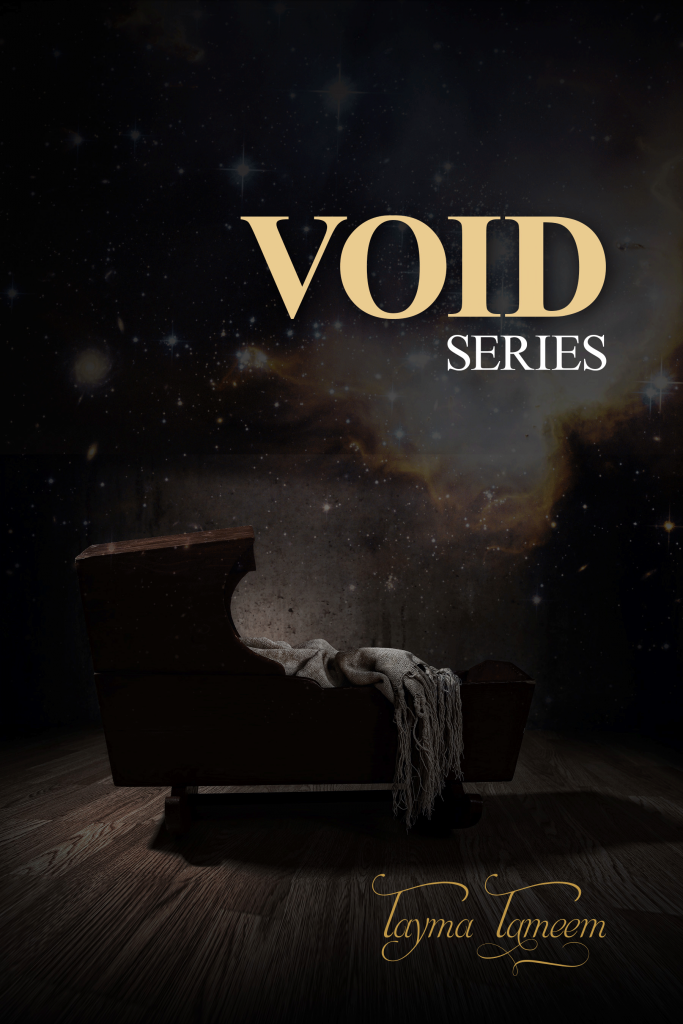 Void: The Complete Series
Owned and published by
Tayma Tameem
Vanished (Void Series, Book 1)
Ryan Gallager is a true family man. With a beautiful wife, a lovely four-year-old daughter and a baby boy just turning one, he faces the challenge of confronting his wife with the reality that he lost his job.
That major hurdle soon takes the backseat when his family's life is turned upside down. Their one-year-old baby disappears from his crib, nowhere to be found. And just like that, the night of the baby's birthday becomes a night they all try to heal from.
Sally Gallager is a beautiful young woman with an amazing husband and two wonderful children. While she battles anxiety and mood swings, she appreciates the presence of her husband in her life. He always takes care of her and the kids, making sure she doesn't have to worry about a thing.
As she tries to be the best mother for her children, Sally constantly strives for a tidy home and a clean environment. With her baby's incessant crying and haphazard sleeping patterns, she is constantly tired. Constantly trying.
When her boy disappears from his crib on the night of his first birthday, hell breaks loose as she tried to hold on to the last threads of sanity in her mind, while attempting to maintain a semblance of normalcy for her oblivious four-year-old daughter.
Alan Banks is a hardworking detective who never left a case open. He learned, early on, that every doubt is valid, and anyone could be a suspect. This school of thought is what led him to become the successful asset that he is to the force, and the pride of the precinct.
When faced with the puzzling case of the Gallager baby disappearance, Alan doesn't leave a stone unturned. He goes to great lengths to uncover the truth behind the mystery.
But will baby Gallager be found before it's too late?
They say there's no greater joy in life than parenthood. There was nothing that Mary craved more than to become a mother. A trip to a fertility doctor, though, turned her life upside down, pushing her down an endless corridor of adoption agencies that did little to welcome her, or her husband, Jack. Mary was just about to give up hope, until a coincidence sent her knocking on a strange man's door. Michael, the director of a suburban adoption agency, welcomed her and Jack. For the first time in a long time, Mary had hope. Even though she had never heard of Michael's agency before, she welcomed her new child, only to unlock a whole set of mysteries.
Lost and Found (Void Series, Book 3)
Aaron Clark has everything he could possibly want; doting parents, a kid sister Kiara, and aside from the constant moving (8 cities in three years), there's nothing more he could possibly want except for answers. The older he gets, the more he can't help but feel like he doesn't belong. Beyond the fact that he looks nothing like his parents, he also has an inherited genetic condition, something neither of his parents have. 
In spite of their reassurances, Aaron is convinced something is amiss, but every time he goes in search of clues, he comes up empty-handed until he finally decides to give it up. Years later on the cusp of graduation, Aaron finally learns the truth, that he and his sister are adopted, and it's only through her quest to find her family that he can begin to learn the truth.
As a college senior, Aaron thought he was ready for the truth he's spent so long dreaming about, but when he confronts his parents, it's nothing like what he expected, and he discovers that his questions can unravel everything including a life that the Clarks worked hard to build, and the secrets that threaten to tear their family apart. Now, as a teacher, and with a family of his own, he enlists Kiara's help, following a trail that has long since gone cold, and a slew of questions with no answers. 
Aaron will work to bring the truth to light, and in the process, learn that the truth isn't always better than the lie.
Reunited at Last (Void Series, Book 4)
At twenty-four years old, Aaron thought he knew everything there was to know about himself. Having grown up with two loving and supportive parents, and a sister he would do anything for, he thought he had it all figured out until he graduated and became a teacher.
Now, with a baby on the way, Aaron is forced to confront the truth about himself and the past he's tried to ignore. With the support of his wife, Patricia and the encouragement of his sister, Kiara, Aaron learns that nothing is what it seems, including the circumstances of his own adoption.
Many years prior, a woman by the name of Mary Lorens and her brother disappeared, taking with them a boy who was kidnapped from the comfort of his own home. Years later, they resurface in a town and settle there, wanting to give their children a sense of normalcy and a stable life.
And now Aaron is realizing that he was that little boy, snatched away from the Gallaghers when he was only a few weeks old. When he searches for his birth family and finds them, Aaron can't seem to bring himself to tell them who he is, even as he begins to learn more about them, and they turn out to be everything he's ever wanted.
Torn between his love and loyalty towards the family who raised him and the family who brought him into the world, Aaron will soon be forced to make a decision, far harder than anything that he's had to make. Will he be able to move on and start a new life built on the truth?
"Now two or three times a year (especially after Christmas) my family shops on the AlkeyTabPro – it's a tradition!"
"Now two or three times a year (especially after Christmas) my family shops on the AlkeyTabPro – it's a tradition!"
"Now two or three times a year (especially after Christmas) my family shops on the AlkeyTabPro – it's a tradition!"
"Now two or three times a year (especially after Christmas) my family shops on the AlkeyTabPro – it's a tradition!"
Get Latest New
Update & Tips
Enter your e-mail address to receive regular updates, as well as news on upcoming events and special offers.