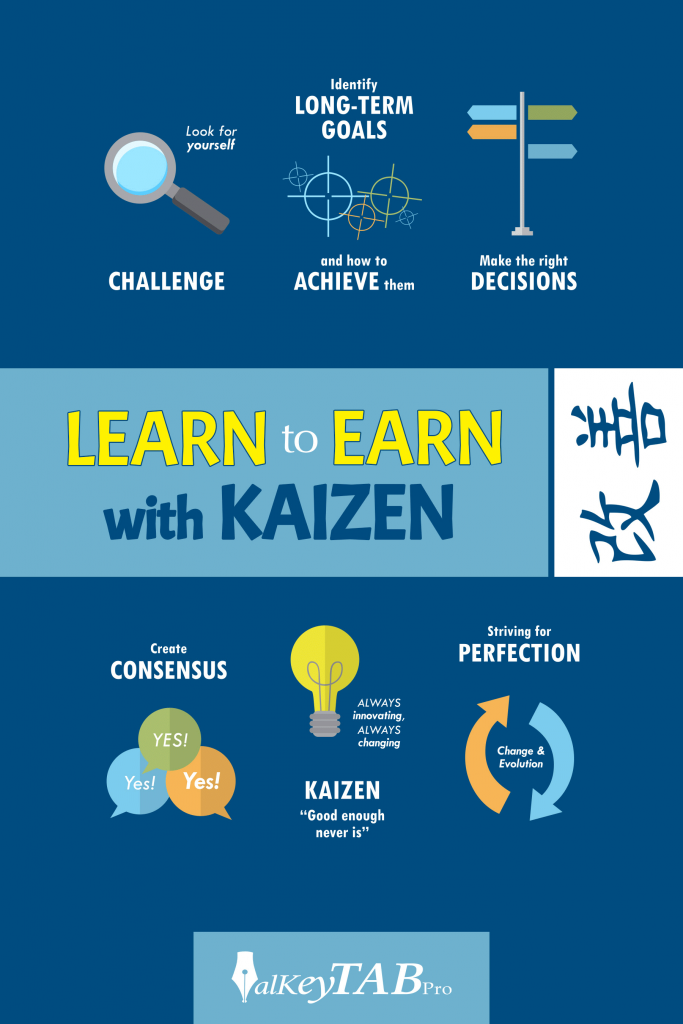 Learn to Earn with Kaizen
Owned and published by
alkeyTAB Pro
Have you ever wondered what you could do to improve your daily processes either in business or in your personal life? Do you want your income to skyrocket, but just don't know how to make it happen? Perhaps you just want to work on your problem-solving skills to make more streamlined decisions? If you answered yes to any of these, then this is the book you have been looking for!
Kaizen is a Japanese philosophy that relies on simplicity and common sense in business practice. The term Kaizen means "change for the better," and the overarching purpose is to improve continuously.
In this book, you'll have the opportunity to learn about the basics of Kaizen, its core principles, most useful tools, and how to implement them into your life easily. Many business professionals use it to improve their work environment and bottom line. It is a win-win approach to working and cultivating an income. You can use Kaizen to improve your earnings and to earn power.
Under the Kaizen philosophy, you'll have the opportunity to:
Discover how to reframe your mindset to look for solutions rather than problems.
Learn how to develop problem-solving skills.
Identify easy to use tools for nearly any problem-solving situation.
Understand how using tools such as 5S can result in a much larger impact.
Explore how to implement Kaizen practices with visual aids.
And so much more!
Use Kaizen to significantly improve your earnings and your daily life. This philosophy is usually found within business, but you'll see results across many areas of your life. Choose to change your life for the better and start changing small things that might seem insignificant and then follow through until you notice the substantial change those minor changes bring.
Kaizen exists to help refocus you on what is important – improving your life. Slow and steady improvement, common sense, and principles that relate to persevering support this philosophy. Don't miss out on your opportunity to implement simple tools for life-changing effects. Download your copy of this book today if you want to learn how you can benefit from Kaizen!
Book Summary
The Kaizen philosophy can be tracked back to post-World War II Japanese industrial reconstruction. Today you can find a variety of Kaizen tools and principles at work in almost every workplace in North America and throughout the world. The philosophy relies on a series of pillars, principles, and tools. While Kaizen is not a methodology on its own, it lends itself to many project management and even software development procedures that empower teams to work at peak performance.
Kaizen is largely about adopting the mindset that everything can and should be improved over time. Slow but steady incremental improvement can improve your earnings, client, and coworker relationships, and more. You can implement Kaizen principles into almost every aspect of your daily life, and your work life will certainly benefit from it. Learn how to monitor change, assess problems as an opportunity, and implement simple but meaningful solutions.
Prepare to implement Kaizen by getting to know a bit more about yourself, your habits, and your earning potential. Then use a Kaizen event to drill down on the important tools and principles you could begin using immediately. Create a visual workspace to ensure you're constantly working towards your goals and hitting key milestones. In this book, you'll have the opportunity to explore visual tools such as a Kaizen board but also activities such as hosting a daily Kaizen, even if it's only for yourself. Then learn to employ tools such as a PDCA, 5S, and the Pareto analysis.
Finally, implement Kaizen and build it into your daily work events. Make a daily Kaizen a habit and develop your skills for problem-solving and change your mindset to look for solutions and opportunities rather than challenges and obstacles. Kaizen is an endless cycle, which means that this is a principle or philosophy you'll adopt going forward. You will embark on a journey of constant self-assessment, improvement, and self-monitoring.
Published On : May 24, 2021
Get Latest New
Update & Tips
Enter your e-mail address to receive regular updates, as well as news on upcoming events and special offers.