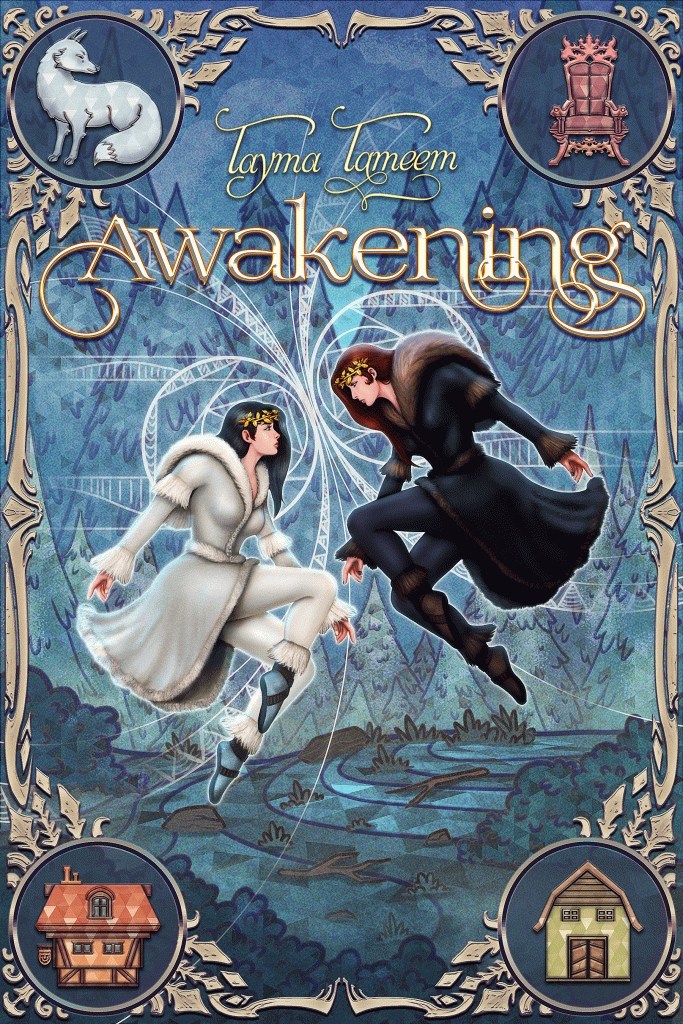 Awakening: The Complete Series
Owned and published by
Tayma Tameem
Awakening (Book 1, Awakening Series)
In a permafrost-covered forest, Katja awakens with amnesia. She laboriously finds her way back into town, where she manages to work as a tavern servant. The raven-haired girl later learns she is the sister of the Kingdom's dictator, Lady Snow, who has struck the Kingdom of Hale with terror and is rumored to have murdered her own sister in cold blood for the throne. Katja flees from plain sight and stays hidden in fear of being captured by her sister. During her adventures in Hale where she pretends to be a commoner, but her identity is unraveled to a charming local man and an old barn couple who agree to keep her hidden from Queen Amara in their home until she regains her memory.
The suspenseful dual-timeline story of Princesses Katja and Amara depicts the life of the Kingdom's royal family and their struggles with keeping their youngest daughter, who was gifted with the Spirit of the Winter, from descending into wicked madness. As Amara strives to gain control over her gift of conjuring and manipulating ice, her unruly powers begin to consume her and become a threat to everyone around her. Katja guides her sister through the basics of patience and control in an endeavor to keep her from succumbing to her dark side with the help of the Spirit of Brikkir – a mystical arctic fox that only she and Amara can see and communicate with. Twenty-six years after Amara's birth, Princess Katja mysteriously finds herself on the quest to retrieve her memories and put an end to her sister's reign of terror.
Rise of the Gallorians (Book 2, Awakening Series)
Imbued with new purpose, Amara sets off to the Kingdom of Hale to take back what is hers and regain her rightful place as Queen, but her journey is anything but easy. The Mage had assumed the role of King in Hale after banishing her, tricking the people into thinking that it was their ruthless Queen that was responsible for their suffering. Upon returning to Hale, she is chased out of her own country. Lost and hurt, Amara must find a way to go back and make amends for her wrongdoings. But can she survive the assassins the Mage had set upon her, including one very determined housemaid turned warrior, hell-bent on revenge? Meanwhile, her sister Katja is imprisoned by the Mage, unable to escape, worried for her younger sister who was alone out there.
Far from the world of Amara and Katja and the Mage in a distant land, a new leader rises among the Gallorian people. Prophesized to unite his tribal people under one banner, Korrav masters the ability to wield fire so he can unite the Gallorians and set them upon a quest to restore their homeland from which they were exiled centuries earlier. Read on to learn if Amara can race against time to take back the throne in time to face the looming threat of the Gallorians, fierce warriors who know no fear, and their fire-wielding leader who raised cities and villages in his quest to unite his people, with one purpose in mind: destroying the Kingdoms of Hale, Sol, and Brule.
Redemption (Book 3, Awakening Series)
The Gallorian invaders have arrived at the continent in which Brule, Sol, and Hale exist. The temporary peace enjoyed by Amara and her sister, and their Solan counterparts, did not last for long. Now, they must to figure out how to stop a Gallorian invasion of immense magnitude, led by a ruthless warlord who can control fire. Different alliances are instantly formed, some logical and others surprising, as the different players on the continent try to find a way to either thwart this invasion or align themselves with the enemy to save their own people. Read on to learn more about this next chapter of Amara's story as she struggles with her own shortcomings and her feelings of affection for a Prince while trying to do right by her people and stop an imminent invasion.
Coming Soon (Book 4, Awakening Series)
Pre-ordered books will become available on the alkeyTAB reader once published.
Get Latest New
Update & Tips
Enter your e-mail address to receive regular updates, as well as news on upcoming events and special offers.